I am a lactivist.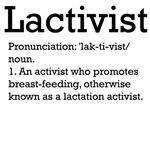 One thing i feel strongly about is being able to nurse my baby wherever and whenever she needs.
This includes church.
Being LDS (also known as "Mormons") a lot of emphasis is given on being "modest". I've been told many times that when i breastfeed i *must* cover up and that it is improper of me to show any skin while nursing my baby. I feel that i must feed my children in a way that is most convenient and works best for me and my children. I have a lot of other thoughts on this subject as well, but i discovered a blog post today that says pretty much everything i'd want to say, so i'll let it do the honors :)
And here is my sister's blog post on the topic:
And so, i will continue to nurse my daughter wherever *WE* feel most comfortable. Yes, i have nursed in sacrament meeting and i will continue to do so.
What are your views about nursing and "modesty"?